I have read to C since she was tiny however it was not until a few months ago she has begun to show an understanding of things that were happening in the story.
Now she has begun to act out things that are happening with simple role play. For me this has been an unexpected, yet wonderful development to see.
There are 2 books in particular she likes to do this with: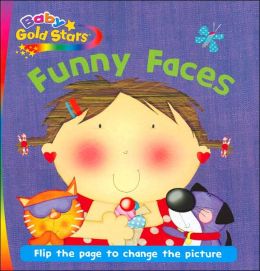 The first is a book called Funny Faces by Moira Butterfield.
This is not a book I bought myself but one C inherited from her cousins.
I have to admit, it is not a book I would have ever thought of buying had I seen it on the shelf but to read it with C now is fascinating...
The second is I Like it When... by Mary Murphy
I am sure many of you have this as it was one of the free Bookstart books given out when we registered C's birth.
We have read this book a lot as it was one of our first but it has only recently begun to come into it's own...
C will how happily sit down with these books on her own and remember from the pictures the actions that need to be done.
We are always told the importance of reading with our children from on early age but it is situations like this that bring home how much they are taking in and learning at this age, and how important these early building blocks are to their later development.